These are the clothes you can wear from 9 to 5, and 5 to 9. These ten essentials are the ones you can invest in and never go out of style.
---
The Button-Down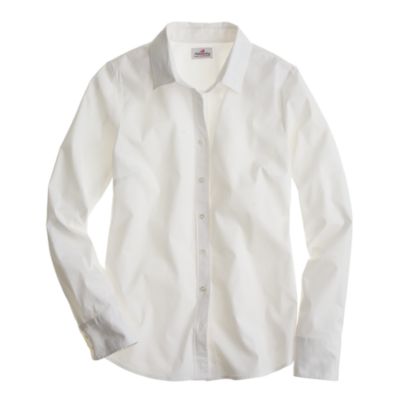 J. Crew Stretch Perfect Shirt in White
This is a basic for office attire, formal wear, and can even be paired with some distressed boyfriend jeans for a more casual look. The versatility of this piece makes it vital in your wardrobe arsenal.
---
The Blazer


H&M Fitted Blazer
Try to choose one with a structured shape, it gives it more of a timeless look that you can wear today and 50 years from now. The classic blazer is an article of clothing that exudes effortless refinement and gives any look a preppy update.
---
The Leather Jacket


UNIF Slacker Moto Jacket
(I also like this one that has a feminine peplum to it and this biker jacket.)
A good leather jacket should be supple in material and fit just right-not too loose or too tight. Leather jackets are the elemental item for any edgy look. Channel your inner biker chick and pair with an awesome muscle tee and combat boots.
---
The LBD


Theory Nikay Sleevless Fit-And-Flare Dress
(Here is a more affordable version.)
Karl Lagerfeld (who fyi, is getting a Barbie doll) once said, "One is never under- or over- dressed with a little black dress."
How true he is. This beautiful basic, made famous by the fashion legend Coco Chanel, is amazing for any situation. From a night on the town, to a dinner date with that special someone, the LBD is sure to be one you'll reach for again and again.
---
The LWD


Tibi Short Dress
(This other charming lace and charmeuse dress is perfect for summer and follows the midi-length skirt trend.)
More on the casual side, another great dress to have on hand is the little white dress. Especially great for warmer months, a white dress will be a refreshing look. In the summer, it looks divine paired with a denim jacket, gladiator sandals, a panama hat, and sunnies.
---
The Perfect Pumps


Manolo Blahnik BB Pump in Black
(Here is a pair that is a more frugal find.)
A must-have that is indisputable is a pair of pumps. Try finding this in a nude and black shade for the greatest number of pairing options.
---
Ballet Flats


Lanvin Metal-Heeled Leather Ballet Flats in Blush
(These H&M Ballet Flats are a less expensive alternative that are still quite chic.)
While those heels may be great for dressing up, they aren't always for everyday. These understated and elegant shoes were popularized by the famous Tory Burch pair and by the lovely, Audrey Hepburn in the 1950s.
---
'Fits Like A Glove' Jeans


Hudson Jeans Collette Skinny Jeans in Cascade
(I also like this Wit & Wisdom pair and any rag & bone denim.)
These are that pair of denim that flatter your body, make you feel confident, and feel as if you're wearing your weekend uniform of sweatpants. Jeans were originally created by Levi Strauss, as a pair of comfortable and durable work pants for miners during the Gold Rush. They've come a long way since then, and are now a wardrobe staple.
---
The Relaxed Tee


T by Alexander Wang Sub Classic Tee in Ivory
(H&M has got the budget basics covered again with this versatile tee.)
This is a fundamental piece in your closet for one main purpose: adaptability. The 'chameleon' of your closet looks good styled with almost anything, from feminine florals and pastels, to more minimalistic looks with clean lines and neutral color schemes.
---
The Pencil Skirt


RED Valentino Stretch Cady Pencil Skirt
(Another option is this knee-length, stretch jersey pencil skirt.)
Thinking of this might conjure up images of office outfits, but a striped or bright-colored option gives it a fun twist. You'll find excuses to wear it off-duty.
What other essentials would you include? Like if you want me to show some styling options!