Okay, it's time to get real for a moment. Lately, I have felt overwhelmed. There has been a lot going in my life (but mostly good) and I'm coping with stress.
However, I've also had an overwhelming sensation of gratitude. I am so thankful for all of you readers and dreamers, thank you for inspiring me to continue reaching for my goals, and I hope I have done the same for you.
I am so grateful for the amazing, inspiring people I have been able to interview, and for all the wonderful opportunities this blog has provided. So yes, I may have a hefty amount on my plate, but I'm enjoying every minute of it.
---
Favorite reads of this week…
YouTube Makeup IRL: We Wore It All Day & Here's What Happened @ Refinery29
Hilarious, wonder if I should try this out. Definitely gives us perspective on modern American ideals of beauty.
What Are the Three Ways to Train Your Brain to Be Happy? @ Time
One of the most fascinating and amazing things about the human brain is our neural plasticity, or ability to adapt. Why not train your brain to think more positively?
An Articles Club @ A Cup Of Jo
Like the idea of a book club, but with articles. For a busy schedule, this will be easier to fit in as well. Thanks Jo for the great idea!
Neurosexism: Brains, Gender and Tech @ recode
Definitely a strong disussion. As a girl myself with an interest in science, it is disheartened to see young, talented girls interested in STEM (Science, Technology, Engineering, and Math) majors drop out because of expectations and biases of them. It is important to bring this issue to light so as to better gender equality.
---
Favorite pins of this week…
---
Favorite find of this week…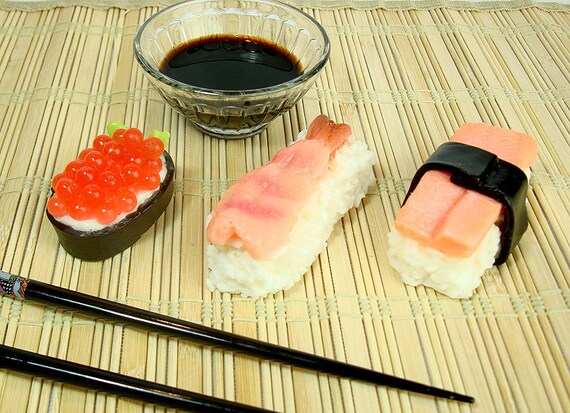 How cute (and realistic) are these sushi made for your body? This Etsy shop specializes in creating foodie fun soaps. Definitely great for a gift!
---
Did you also check out my interview with the amazing Sonja? And, my post about the beauty benefits of sea buckthorn oil (hint: there's a LOT). Also, keep an eye out for some Halloween posts in a couple of weeks. Can you guess what my costume is going to be?
Live life without regret and without apology.
Megan